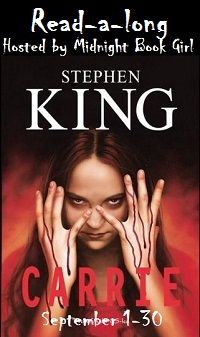 Throughout the month of September

Midnight Book Girl

and

Midnyte Reader

are hosting a Carrie readalong. If you want to jump in, it's not too late! If you've read Carrie, I'd love to hear your thoughts in the comments. If you haven't read it, please be aware these readalong posts may contains spoilers.

Part One: Blood Sport Discussion 1. Is this your first Stephen King book?

No, the first Stephen King book I read was The Shining which is probably why it will always be one of my all time favorites. This is my third read of Carrie.

2. What do you think of the style

Carrie

is written in?

I have always loved reading true accounts of the paranormal so I enjoy all of the publication inserts into the story.

3. Do you think the bullying/attack on

Carrie

that occurs in the late 1970's in the book could happen today?


I hate to admit how cynical I am toward society, but I think the bullying/attacking could easily be worse today.

4. What are your thoughts on

Carrie

's mother?


I have a hard time wrapping my head around Carrie's mother. I keep thinking if this story were real, Carrie probably would have died at a young age.

Midnight Book Girl

has an excellent point that maybe Carrie's powers are what kept her alive.

5. Young

Carrie

brings the rain of rocks down on her house at the tender age of three, but then there are no major events for years. Why do you think her powers remained fairly quiet until now? What role does her mother play in

Carrie

's use of her power?


I like the point they made in the publication about Carrie's lack of siblings. It's possible that more could have been reported if more people were in her life other than her mother. Even though Carrie didn't remember any more events on the walk home from school that day, her mother's fear makes me wonder if Carrie simply wasn't aware of her own power until that day she hit puberty. Most adolescents experiencing telekinetic activity are never aware that they are the source of the activity. I think Carrie's mother gave Carrie a reason to start trying to focus her power and make things happen on purpose.

6. Do you believe that telekinesis exists?


Yes.

7. What is your favorite moment so far?

I like Carrie's "mental puberty" although it bothers me that that phrase was used while we were in Carrie's point of view. If she didn't have any concept of puberty at all, her mental awakening shouldn't have been referred to as a mental puberty. Regardless, I like Carrie making all the connections regarding her telekinesis as well as recognizing her mother's fear and standing up to her mother "

you should have told me

".

8. What do you think of Sue's plan to have Tommy take

Carrie

to the prom?

I think she had good intentions. She wanted to make up for what she had done, but she should have given more thought to what could happen by putting Carrie in that position.

9. Any predictions (um, only if you haven't read this before or seen the movie! ;)

No predictions for me. :D

10. Just how crazy is Mrs. White?!

She's freakin' crazy, dude.